Testimonials
College is a huge leap from high school. The curriculum as well as the environment are completely different and can be at times very overwhelming.
Engineering 141 is one of those classes that attempts to help students become adjusted to everything that Cal Poly has to offer. My experience with Engineering 141 was amazing. It made me aware of all of the resources available on campus and prepared me for my future at Cal Poly.
Not only was this course an eye-opener, but it also was a great opportunity to gain many new friends and great advisors. This class would benefit all new students to Cal Poly, and I would recommend it to everyone!
Armondo Hernandex Major: Civil Engineering Year: Freshman Course Taken: Engineering 141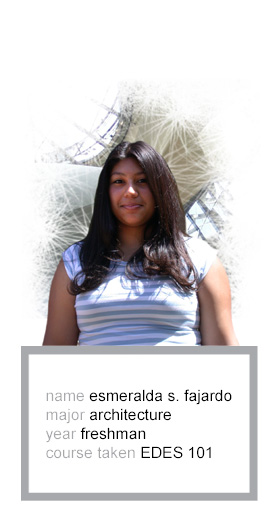 I think First Year Seminars (FYS) is truly worth any first year or transfer student's time. I know how stressful it is when you need help with something and don't know where to go. I know it doesn't seem like the most important class, but EDES 101 FYS offers so much.
I learned who I need to turn to when things come up, I made lasting friendships, and grew closer to my advisor. Here's my biggest piece of advice to anyone coming to Cal Poly: MAKE THE MOST OF FYS!!! You'll appreciate having made it to all those workshops/meetings.
Because of FYS, I met many upper division architecture students, who are now my mentors. I spend a lot of quality time with them. I know, because of these workshops and spending time with the 5th/6th year students, what to expect throughout my college life. I also learned what prospective employers look for, so I know what to work for. I know it will all pay off later.
Trust me, it's nice to know where things are after only your first quarter here (I constantly tell my roommate and friends where they need to go for help).
FYS is also helpful because it teaches you how to manage time, make wiser decisions, and you know how to look for those classes you need! I know I'll remember my first quarter here with fond memories... TAKE FYS AND YOU WON'T REGRET IT!
Being in the EDUC 125 class during the fall quarter of 2003, I have realized that this was the most gratifying and beneficial class I ever thought possible.
This class helped me get to know the Cal Poly campus much more in depth. We were able to identify many important sites on campus such as Career Services, the Health Center, Student Academic Services, Kennedy Library, etc.
The class covered a variety of issues that are important and highly interesting, like learning styles, scholarship information, study skills, time management, campus resources, online resources, career exploration, internships, summer jobs, resumes, etc.
At the end of the quarter, you turn in a portfolio with all the information and work you have done and reviewed during the quarter for a final grade.
This class was a great way for me to start my freshman year at Cal Poly. I really recommend this class to anyone, regardless of their major.
My experience in Cal Poly's First Year Seminar class was beneficial to me in that I was given a specific time each week to focus on acquainting myself with the resources and facilities at our school.
I was able to learn new strategies to help me balance school, work and family obligations.
My instructor was knowledgeable, and helped direct me to helpful links around campus.
Take this class! You will be glad you did
I definitely was excited to take Education (EDUC) 125. I looked forward to learning the ropes about Cal Poly.
EDUC 125 helped me immensely with my first quarter. Cal Poly is a large campus and through this class I learned all the various resources available.
I enjoyed all of our guest speakers. The guests came to inform us of issues and also help us realize that we won't know everything about Poly right away because it takes time to adjust to campus life.
I admit that I don't know what I would have done without the help of my EDUC 125 instructors. I wish the quarter wasn't so short because this class was so much fun to attend.
I recommend every new student at Cal Poly, whether freshman or transfer, take this class. This class is encouraging, enriching, and most of all rewarding.
Business (BUS) 100 is my best class I have ever taken so far at Cal Poly.This class really helped me understand this campus. I learned my way around and about all the services that are provided to us.
Some of my senior friends didn't know about the advantages we have here until I told them.
This class was kick back, but at the same time it was very interesting. We learned about handling our finances and how to access important offices like the police dept and health services, and other services that are provided to us. It is good to make use of these services while we are at school because we pay for them.
How do you think I know so much about Cal Poly? I learned it in my BUS 100 class! So I suggest you take it too. It's very beneficial. You will thank your instructor when you graduate!
I'm a transfer student at Cal Poly majoring in Business and I really think Business (BUS) 100 is an awesome class that new students should take.
BUS 100 prepared me to be familiar with a lot of campus resources. We also had a career counselor and financial aid counselor who came to our class and told us a lot of useful information with free lunch as well!
Especially useful is that this class is designed for mostly business students, so it was nice to know many of them and later see them again and again in lot of other classes that I took during my first year.
Also, the Orfalea College of Business advisors were there to help us plan our schedules for our first year. This helped us know what classes to take later.
I'm glad I took BUS 100, if not I wouldn't have established a strong advising relationship with a very nice and helpful instructor like my FYS instructor who I met with several times during my first year.
It's definitely a helpful class to take; I recommend that new freshmen and transfer students take Bus 100.
Agricultural Education (AGED) 102 taught me several valuable skills I use in every class including how to take notes effectively and ways to be successful when working in groups.
It also introduced me to numerous campus resources, without which I would have been lost many times this past year.
I especially enjoyed our excursion out to the agriculture facilities on campus. I never would have found the sheep unit with out that trip.
Overall, it was an excellent class that I recommend every student take. You will learn more about Cal Poly and yourself.
Related Content